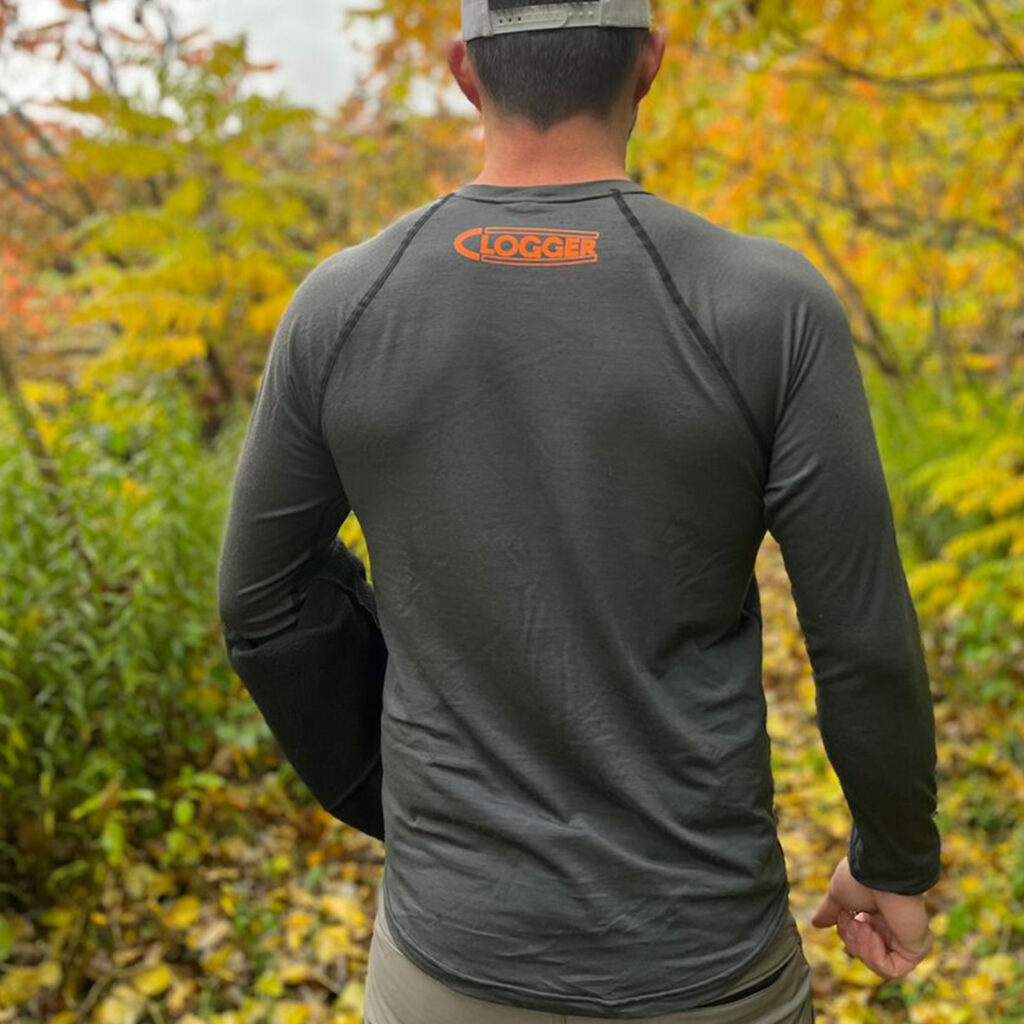 It's been a few months since we launched the Clogger Merino Arborist Clothing line starting with the 175 Base Layers. It is time to let everyone know how much people are loving them as well as explain the products in detail and give you advice on how to get the most out of them.
The base layer is a critical part of the layering system. The layer closest to your skin controls your comfort level. The feeling that the skin has determines whether the overall feeling is hot, cold or clammy so the base layer is key to the feeling of comfort. If the base layer is not doing a good job then the performance of the layers above it will be limited.
We designed the all new Clogger 175 Merino Base Layer with arborists to create the ultimate everyday, performance Merino base layer for tree people. Like all Clogger products, the hard to define feeling of comfort is what we focused on.
Based on the initial feedback, it looks like we may have done pretty well.
A. What makes Clogger Merino Base Layers Awesome
What is different about the Clogger Merino Arborist Clothing Line that makes them so good for arborists?
1. Merino wool rocks as a next to the skin layer
Let's cover off why Merino for a next to skin layer first.
Cotton is a non starter. It can absorb 20x its weight in water but just gets heavily and wet. Not good next to the skin.
So, the choice is between synthetics and Merino wool.
Synthetics are a bit cheaper and dry a bit faster. The great thing about Merino it can absorb a lot of moisture but still feel dry next to skin. Synthetics absorb moisture but feel wet. In other words, damp Merino feels more comfortable because of this dry feeling than damp synthetics. A huge plus.
We took it next level with performance Corespun Merino. More on that below.
2. No Stink
The big news. You can leave odor behind. The Merino long sleeve tree tee and leggings are naturally odor resistant, anti-bacterial and breathable thanks to merino fibers.
"I have worn these for 3-6 days with little odor buildup. They are a 100 or so weight which is perfect for a next to skin base layer. They will transport moisture to the outer layers as good as anything on the market, quick drying and warm."
3. Ultra Light and Silky Soft
The fabric is designed for active use by arborists. Merino is a soft and luxurious wool that has super thin fibers that bend with your skin so no scratchy feeling. Grown in nature, Merino outperforms synthetic fibers in feeling and brings its natural, renewable and biodegradable credentials.
"They are so soft and comfortable and fit perfect!"
4. Nature's air conditioner
Merino is not like other fibers. Think of Merino as nature's climate control helping you stay cool when it is hot and warm when it is cool. The 175 merino arborist clothing traps or removes the metabolic heat that your body generates. In the Summer, the 175 lets the heat escape allowing your body to be cooled through evaporation. In the Winter, the 175 traps the heat holding it next to the skin creating a thermal layer. 175 micron is at the top range of the first layer, ultra light category so it does retain some warmth but it is still good year round in most conditions.
"They are absolutely fantastic! I'm down in Tasmania, Australia (similar weather to south NZ) and they are perfect! Warm enough to keep you working but not hot enough to make you sweat like a Rolf Harris in an English court room!"
5. UV Protection
Merino sheep originated in the mountains of Spain. They developed natural UV protection to protect themselves from the high UV levels that they experienced. We get the benefit of that. Merino wool absorbs UV radiation through the complete UV spectrum and the fine weave adds to the protection. Merino apparel tests to a minimum of 40 UHF though usually higher compared to a standard cotton tee that might only test to 20 UHF.
6. We like Sheep and the Environment
We are based in New Zealand. Sheep outnumber humans here by about 5 to 1. They are part of our landscape and are very entertaining. The Merino used in our Merino Arborist Clothing is grown in accordance with the Responsible Wool Standard (RWS). RWS must meet animal welfare, land management, and social requirements to be certified.
7. Clothing Designed for Arborists and tree workers
The team at Clogger know a fair bit about the tree community. We know how hard the work can be and that you need to get the most use from what you buy. Clogger 175 Base Layers are designed to work better for arborists than the generalist options out there.
We did two things to achieve this.
The idea behind core spun technology is simple. Merino is the best fibre for arborists due to all its incredible properties but we needed it to be more durable and stretchy. Core spun technology takes traditional merino wool and spins it around a super-thin nylon / spandex core to create a stronger, more durable, and full flex fabric. As a result, the 175 line of merino arborist clothing delivers a true merino experience that can stand up to more washes, longer use.and the abrasive surfaces that are typical in tree work. Most importantly, the stretch means that the base layers do not bunch or move and the super fine Merino wool means not chaffing or itching.
We added a drop tail to keep the base layer in place while bending. This is a normal feature in merino clothing that is designed for activities like mountain bike riding so we were inspired by that.
Another key design feature is the raglan sleeve. A Raglan sleeve attaches to a garment in a diagonal line from the armpit seam to the collar. There is no seam at the shoulder. The main alternative is the set in sleeve. Set-ins use a seam from the armpit to the shoulder to attach a sleeve to a shirt. The advantage of a Raglan sleeve is that there is more room under the arm, allowing an easier and broader range of movement. For example, stretching out or reaching. Perfect for the work arborists and tree workers do.
We also invested in flatlock stitch machines to make sure that there are no seams to rub against the skin.
"They are great for any steep activity. The tops and bottoms are true next to skin layer, with the proper amount of give while staying in place."
B. What are the details on the Clogger Merino Base Layer?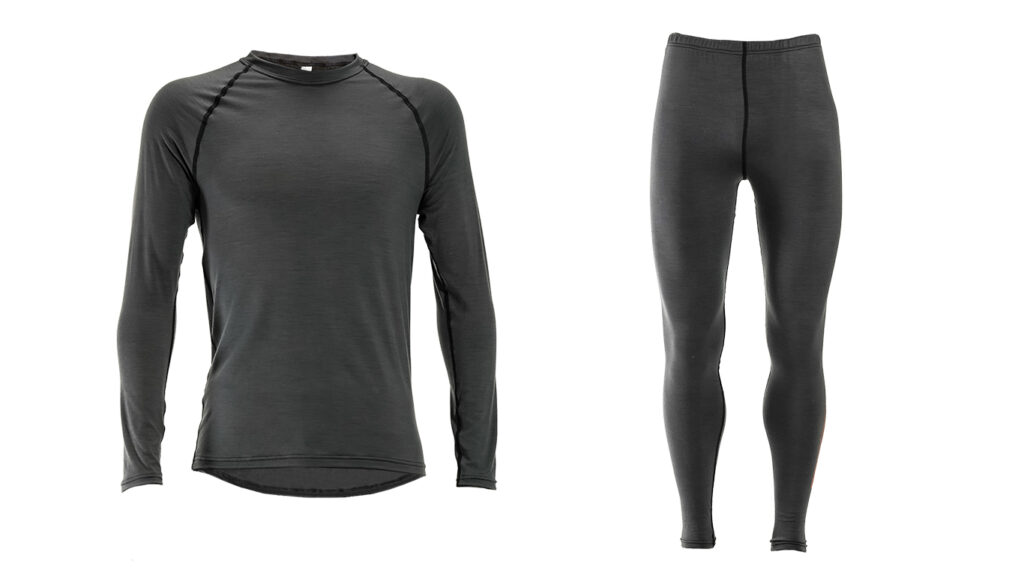 Here's the summary on the Clogger 175 Arborist Base Layer top and leggings.
Corespun technology with ultra soft lightweight Merino.
Nylon/spandex core delivers stretch and increases durability by 40% when compared to standard Merino.
Soft to the touch while moisture wicking to help regulate body temperature.
UV protective, odour resistant and dries in a flash.
Raglan sleeve design makes reaching up easier.
Smooth flatlock seams improve comfort with minimal irritation.
Drop tail hem keeps the base layer in place while climbing or bending on the long sleeve top.
Responsible Wool Standard (RWS) certified Merino.
Fabric weight and composition: 175 gsm with 82% Merino, 12% Nylon, 6% Spandex
Corespun technology with ultra soft lightweight Merino.
Long Sleeve Crew Shirt sizing from 2XS to 2XL (Women's) and XS-2XL (Men's)
Leggings sizing from 2XS to 2XL (Women's) and XS-2XL (Men's)
C. How to Get the Most out of Clogger's Merino Arborist Clothing
We want your Clogger base layers to last for a very long time. Here's how to look after your base layers.
1. When to wash
You don't need to wash after every use thanks to Merino's odor and stain resistant properties. Less frequent washing will make your Merino clothing last longer. A side benefit is that there is reduced waste water by needing to wash your merino less and of course this is better for the planet. Our general recommendation is to wash every third wear but you can use your discretion. Spot cleaning might help you extend that as well as letting your Merino arborist apparel air dry to freshen the clothing up.
2. How to machine wash
Wash your Clogger arborist Merino clothing by first turning inside out. The best setting on your machine is wool or delicate cycle which should have a 30 C or 90 F temperature. Use "clean" laundry liquid or powder free of enzymes, brighteners, fabric softeners or bleach. 'Neutral' or 'Mild' detergents are a good choice as they have an almost neutral PH level. Check and follow the instructions on your chosen detergent label for specific washing instructions.
3. How to dry
The best way to dry is to hang your garment to air dry or lay flat on a towel out of the sun..
4. Removing oil and sap
Dab a "clean" detergent (no bleach / fabric softener) before putting in the washing machine. Use rubbing alcohol gently with sap. Woolmark have created a very detailed guide for removing stains from wool.
5. Repairing holes
The fabric used in our Merino arborist clothing is a knit so it is a good idea to repair small holes as soon as you can by darning them.
6. How remove pilling
Pilling can occur with Merino fabric because of its fine fibres. To remove them, you can just remove them by hand or very gently with a comb. You can also use battery powered "De-pillers" or "fabric shavers" to get an as-new appearance.
7. Storage
The 175 Baselayers can be worn year round. If you do need to store them for the off season, you can protect your merino clothing from damage using vacuum packed bags, cloth storage bags or storage bins. Use a cedar block rather than moth balls to deter moths. The lingering fragrance of moth balls is not pleasant.
8. Definitely do not do these things
Do not add fabric softener, bleach and other stain removing products. Do not soak or tumble dry.
That's it. Enjoy your Clogger Merino clothing for arborists. We hope that our products make for a better day at work for you.
Want to know more about the Clogger 175 Base Layer?
Click your region below: