Your chainsaw safety gear is important. Really important. Continuing cases of chainsaw injuries show that there is a real need to educate chainsaw operators on the correct selection and use of chainsaw safety gear.
This guide examines the different styles and options of chainsaw PPE available to the user and how to choose the best chainsaw protection for your unique situation.
There are two main types of chainsaw safety apparel, chainsaw trousers or chainsaw chaps. Both have the special fabric permanently sewn into the garment. Within each of these styles of garment there are variations designed to meet the differing needs encountered by those who use a chainsaw.
When deciding which style and which product is best suited for your needs there are a number of factors to consider:
1. How often you use the chainsaw
2. The type of work you are doing
3. The environment you are working in
4. The quality/durability you desire
5. The standards and/or regulations governing the work you are doing
6. You/your company's budget and safety culture
Factor 1: How often you use the chainsaw
If you are using a chainsaw frequently as part of your normal daily work, you should consider wearing chainsaw pants rather than chaps. In general, pants will be lighter overall than chaps worn over a pair of standard jeans. Chainsaw trousers will be more comfortable and there are no straps that can get snagged on branches or machinery.
Think about the time taken to put chaps on and off during a day, whereas with trousers you always have your chainsaw protection with you.
From a company's perspective, if the staff are all wearing chainsaw trousers, you will have peace of mind knowing that good safety practices are being followed. With chaps, it is all too easy to avoid the hassle of putting them on just to perform a small cutting job.
Modern chainsaw trousers are made using technical fabrics and complex designs for a better fit and higher level of comfort.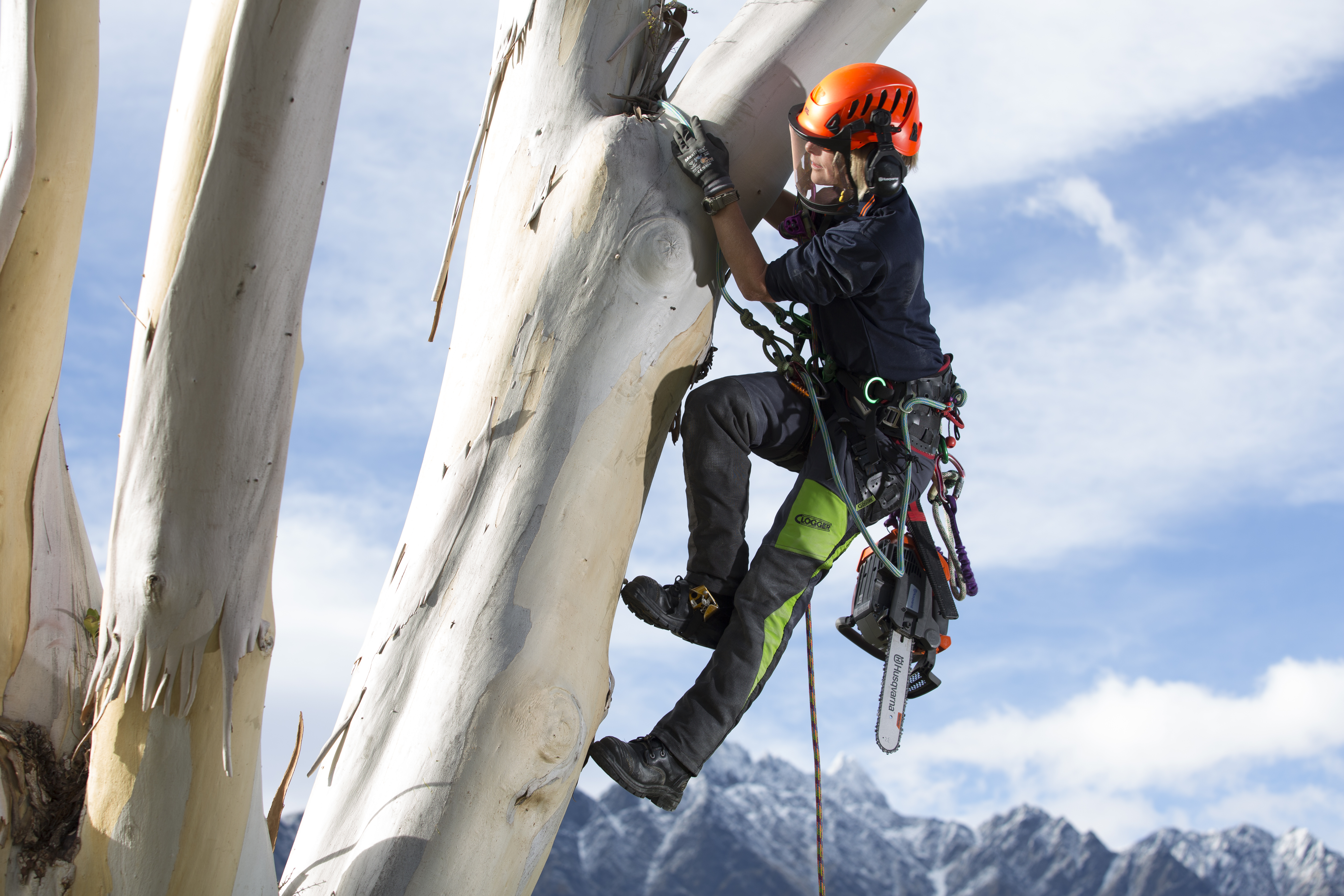 In summary, if you are a professional chainsaw operator using a chainsaw as part of your everyday work, trousers far outweigh chaps as the product of choice.
If you only use a chainsaw occasionally, then chaps are an excellent choice. They will generally cost less and can be put on for the job at hand. Chaps are an over-garment and are more universal fitting; they are not a personal garment, therefore chaps are the sensible choice where there may be multiple users of the chainsaw.
Factor 2: The type of work you are doing
Groundwork: For this you need good functional gear. Either chaps or trousers will provide the protection you need, however if your work also involves feeding a chipper you may want to avoid using chaps because of the snagging hazard.
Climbing: Chaps should not be used for this type of work. Select good quality trousers that are purposely designed for climbing. Given the physical nature of the work, go for lightweight, vented, trousers to help keep you cool. For freedom of movement, select a garment made from stretch fabrics.
Utility work: If your work involves vegetation management for power or gas utilities, then you should consider chainsaw garments that are also fire resistant and arc resistant. Most importantly ensure that the product you buy is fully fire-resistant and not just a fire-resistant outer placed over highly flammable chainsaw protective fabric. While this latter might cost less, if there was an arc flash incident, your clothing could actually turn into a flaming molten mess causing horrific burn injuries!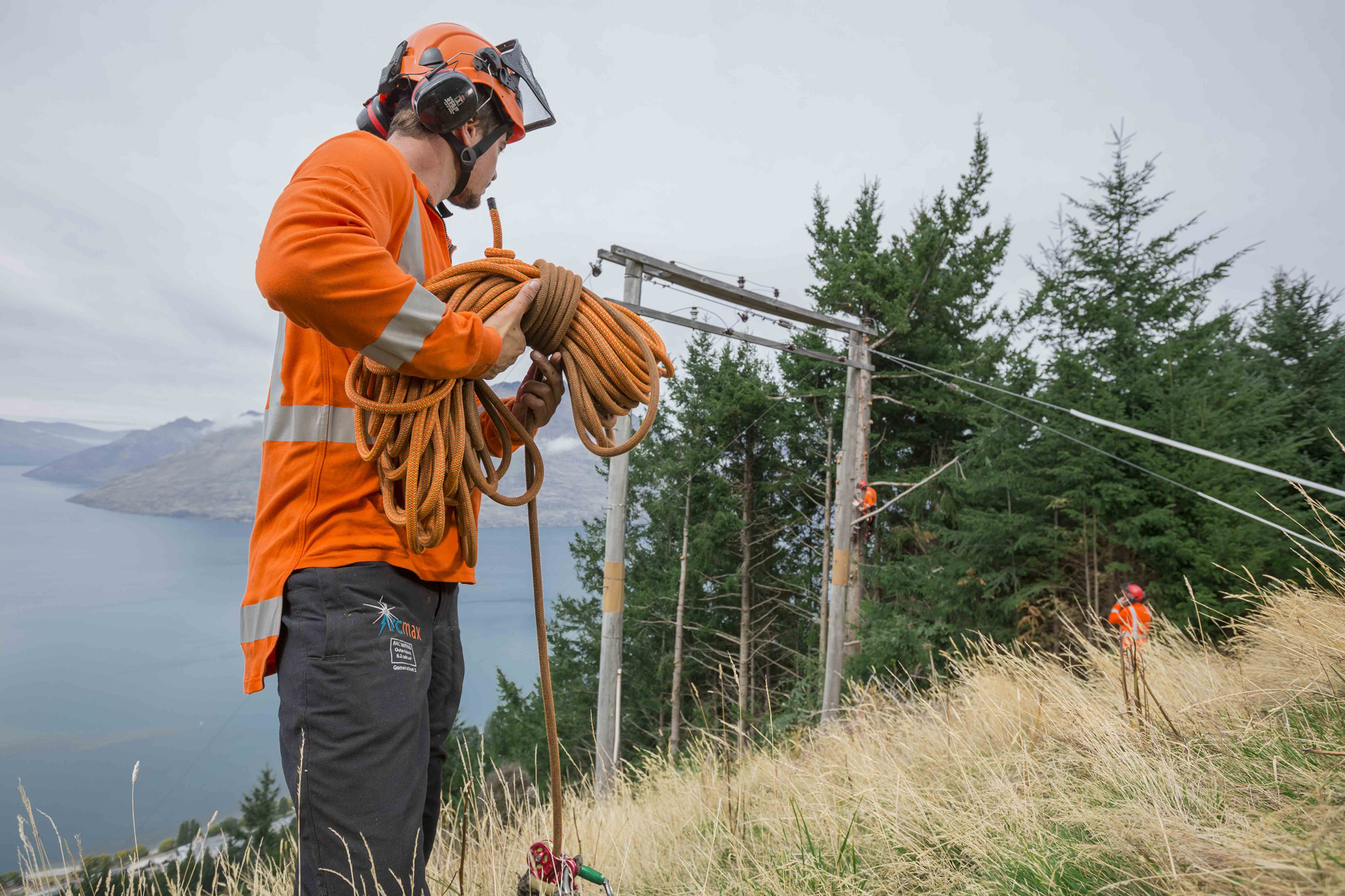 Forestry work: Either chaps or trousers may be used in this industry. Trousers made from stretch fabrics will offer better comfort, less restriction of movement and eliminate snagging hazards. Chaps designed for professional forestry workers are usually constructed from fabrics with very high tear strengths and abrasion resistance, making them very suitable for the harsh forestry environment.
Wildland firefighting: For this type of work you must use a fully fire-resistant product. This can be either chaps or trousers, however trousers are less restrictive. You can move fast if needed!
General chainsaw work: For the home gardener, the farmer, the landscaper worker etc., chaps are the obvious garment to use as they can be put on and taken off as required, plus they can be used by any employee who operates the chainsaw.
Factor 3: Chainsaw safety and your work environment
Some environments are very harsh on Chainsaw PPE garments such as undergrowth in forests. This material tears outers meaning that highly durable and tough materials need to be used.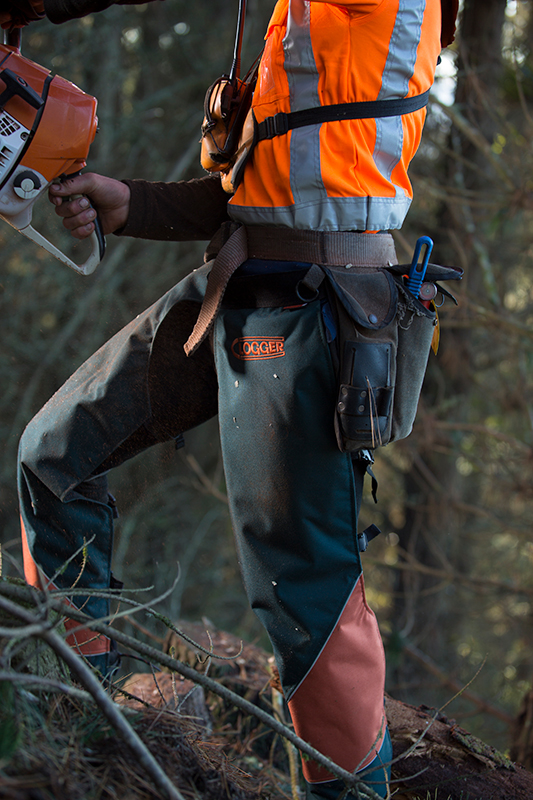 Other environmental factors are heat and humidity or extreme cold and wet conditions. If working in hot, humid climates, choose lightweight, breathable products to combat heat exhaustion.
Today's technically advanced fabric industry is continually developing lighter, yet stronger materials. While garments made from these new fabrics may not be the cheapest products on the market, they will very quickly pay for themselves in increased productivity and user comfort.
For example, Clogger Zero Chainsaw Trousers are made using 'Nilit® Breeze' fibre which works to quickly dissipate body heat helping to keep the body temperature down.
Where work must be done in extreme cold, use garments made using heavier, insulative fabrics.
Factor 4: Quality and durability
When choosing chainsaw safety gear, look for things like quality of construction, quality of hardware, where it has been made and what the outer fabric is made from. Some things like poor thread quality and cheap seam construction are not easily detectable but can mean that a garment will not last as expected. The old adage "No one regretted buying quality" applies in every circumstance. Remember too, that these garments are for your safety so only buy product that has come from a reputable source.
Garments made from synthetic fibres (e.g. nylon and polyester) will offer much better durability than cotton based materials.
Consider the lifetime cost of a garment. If you were to get twice the length of use out of a garment that costs 20% more than a cheaper alternative, the obvious choice is the more expensive garment.
Regular washing and proper maintenance protects your investment and can extend the useful life of the garment.
These vary from country to country so be aware of the standard that applies in your country. Then look for the label that certifies that the chainsaw protective garment meets that standard. Certified product is your guarantee that the garment has been tested and complies with the standard. It is your assurance that the garment will perform in the event of an accident.
Some global standards include provision for different levels of protection. If you are an occasional user you may opt for the lowest level of protection as this normally comes at the lowest price and any protection is better than no protection. A professional operator or a safety conscious company should be purchasing product with a higher rating as safety performance is paramount.
While these country-wide standards set out minimum levels to be complied with, individual forestry management companies or utility companies are quite within their rights to impose stricter or higher levels of performance as they choose, e.g. additional protective coverage areas like rear leg protection or higher chain speed ratings.
Factor 6: You/your company's budget and its safety culture
Given that you have looked at the preceding factors and decided that you need a particular style and type of product, it then comes down to price. Make your selection wisely, putting price as the last consideration. Remember it is your health and safety that is at risk.
Every organization has a culture. If your organization focuses on just providing the minimum of gear for compliance purposes it is likely that entry level chainsaw protective gear is specified. However, those organizations that believe in investing in their staff and are prepared to provide comfortable, specialist gear will find that their staff will perform better, will be loyal, and will be more engaged.
In making your decision there are some facts about chainsaw protective fabrics that you need to bear in mind. If you know the technology behind chainsaw protection you will make a better, informed decision.
There are two main types of chainsaw safety fabrics; let's call them 'Standard' and 'Advanced'
Standard protection consists of multiple layers of chainsaw fabric, each of which is constructed using hundreds of loosely woven fibres. These fibres pull out easily when hit by a moving chain, getting dragged into the sprocket area where they tangle around the sprocket, effectively choking the saw. This happens almost instantly. The fibres used are mainly inexpensive nylons, polyesters or polypropylenes and rely on bulk or mass to stop the saw. Low cost or entry level chainsaw clothing uses 'standard' protective fabric.
Advanced protective fabrics incorporate cut-resistant fibres into the fabric construction. While these cut resistant fibres are still designed to be easily pulled out, they also exert a braking force on the chain, increasing the chain-stopping performance.
Advanced protective fabrics require less layers and therefore less bulk to achieve the same level of protection as standard protective fabrics. However, cut resistant fibres are expensive, so advanced protection will always cost more.
Arrestex HP and Arrestex FR are both advanced protective fabrics and are part of the secret behind Clogger's lightweight chainsaw protective clothing range.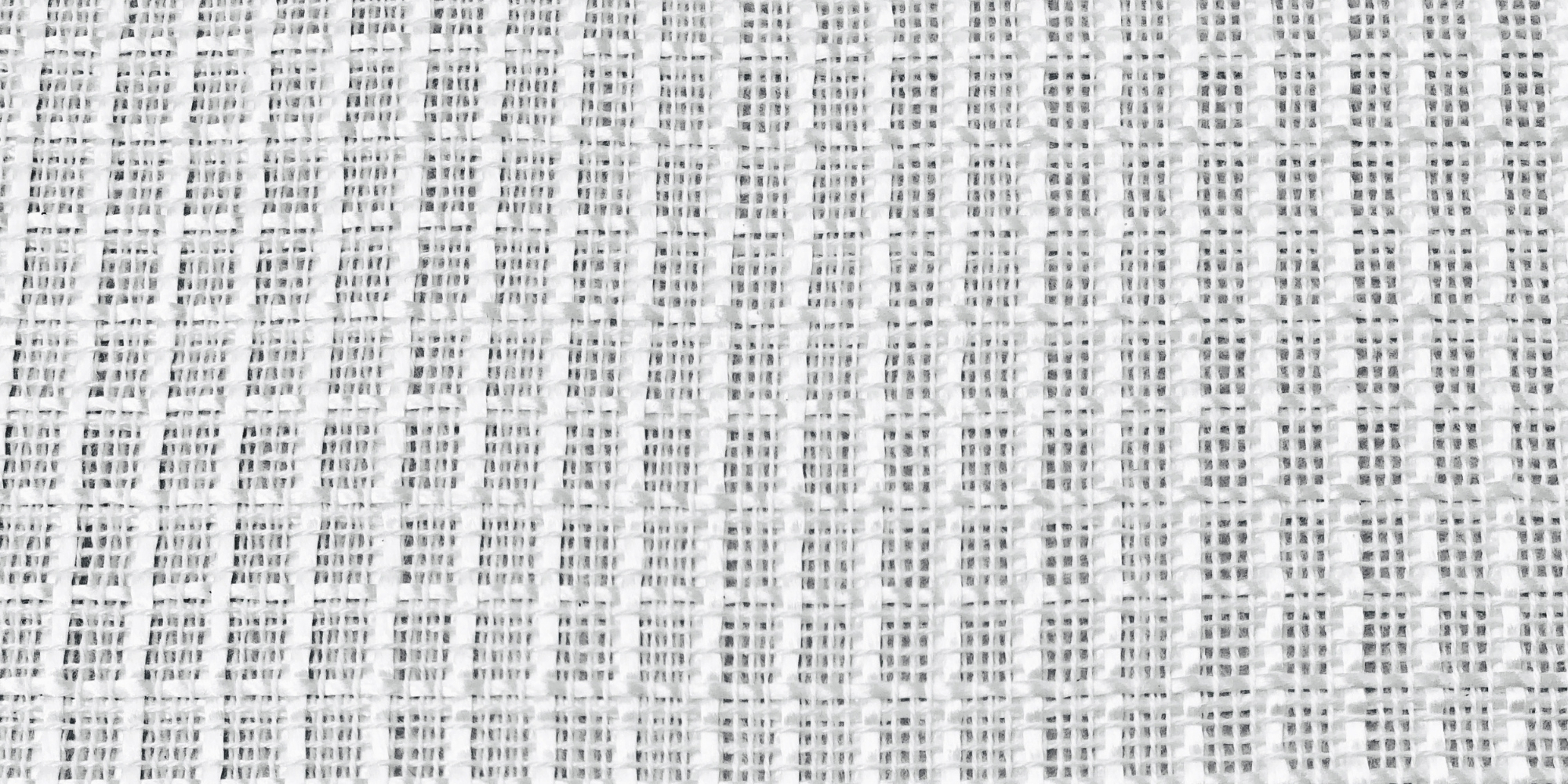 Typically, advanced protective fabric will be able to achieve the European standard with a total mass of 700-750 gsm, while standard protective fabric will require approximately 1000-1100 gsm. This represents a considerable amount of extra weight to be carrying around all day. The extra cost of garments that use advanced fabrics will quickly be paid off through less fatigue, less heat exhaustion and higher work productivity.
When comparing chainsaw protective fabric systems, there are some important features to be aware of:
a. Number of layers
The number of layers is not necessarily an indication of how effective the protection is; e.g. advanced protection with 6 layers can offer the equivalent or better performance than a 9-layer system of standard protection. It should also be noted that standard protection can be constructed with 9 or more layers of a lighter weight fabric or 6 layers of a heavier fabric, with both weighing the same in terms of total mass. Therefore, the no. of layers should not be used as a measure of effectiveness.
b. Use of cut resistant fibres
Some advanced chainsaw fabrics have the cut-resistant fibres woven in one direction only. Arrestex HP and Arrestex FR have the cut-resistant fibres in both the vertical and the horizontal directions. This ensures that the fabric will perform regardless of which direction the chainsaw bar hits it.
c. Kevlar
Advanced chainsaw safety material that uses Kevlar will have a limited useful life as Kevlar degrades over time. It is preferable to choose a protection system that doesn't use Kevlar.
d. Chain speed rating
Look for a tested speed rating: The NZ and Australian Standard, AS/NZS4453, only has one chain speed, 20m/s, and garments are rated against this as a simple pass/fail. The North American Standard states a threshold chain speed, so you can use this as a very clear indication of effectiveness.
Summary
The right chainsaw safety gear depends on your unique circumstances.
Be aware of the particular hazards that you will encounter and ensure that you are adequately protected against that hazard.
Be aware too of the regulations that govern your PPE choice and only purchase product that complies with that.
Always view your PPE as an investment in your safety not as a cost. Look at the lifetime cost, not the initial upfront cost. Weigh the higher initial cost of garments with advanced protection against the daily benefits of better work productivity, less fatigue and less heat exhaustion.
There is no 'best' in chainsaw protection, but there is a best choice for you and for your work environment.