Are you in need of advanced, lightweight, affordable chainsaw protective pants and chaps? Look no further than TreeCREW from Clogger.

TreeCREW is a no-compromise solution for tree companies and workers who need to meet a budget without sacrificing safety or performance.
1. Why Upgrade to TreeCREW?
For companies, the question is whether you pay your crews to perform or just do the basics. If you pay them to perform, then TreeCREW is the right choice for chainsaw protection. TreeCREW pants and chaps enable better performance and more productivity while allowing companies to stay within budgets. Employees get the light, flexible high performance chainsaw apparel that allows them to perform at a higher level.
For individuals, the question is whether you are willing to torture yourself for savings in the range of cents per day by choosing basic chaps over TreeCREW chaps. In the case of chainsaw pants, tree workers and arborists often pay more for hot, heavy, outdated chainsaw protection- making the choice of TreeCREW even easier.
2. TreeCREW Chainsaw Protective Pants
The pants feature Clogger's breakthrough Arrestex HP light chainsaw protection, which provides coverage from waist to ankle, with extra coverage on the left side for added protection. This fabric includes ultra-strong UHMWPE cut-resistant fibers that are cross-woven to improve multi-directional strike performance.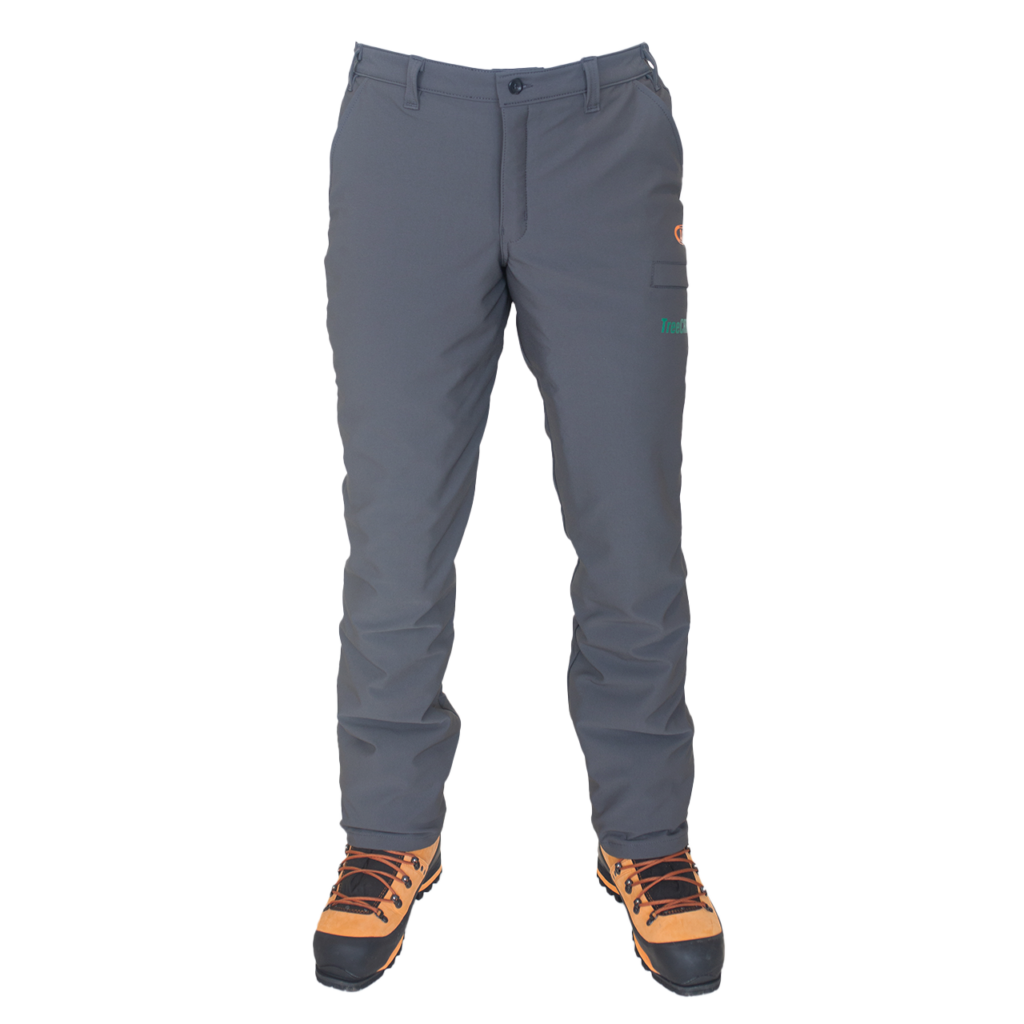 But TreeCREW isn't just about safety. The TreeCREW chainsaw protective pants are also designed with durability and flexibility in mind, allowing for maximum comfort and ease of movement during a long workday. The outer fabric is constructed of a polyester/lycra blend with a 4-way stretch for greater freedom of movement, FlexZone in the seat seam for extra give, and an elasticized waist for a snug fit. The pants also feature lock-stitched seams and reinforced stress points.
Tree workers will appreciate the pants' specific details, including 2 huge slanted hip pockets that pull out easily to remove sawdust, a welted pocket on the thigh for a cellphone or accessories- accessible while wearing a harness, wide belt loops that fit up to a 2-inch belt, and a mesh lining for enhanced breathability. The pants also have openings at the hems to remove debris.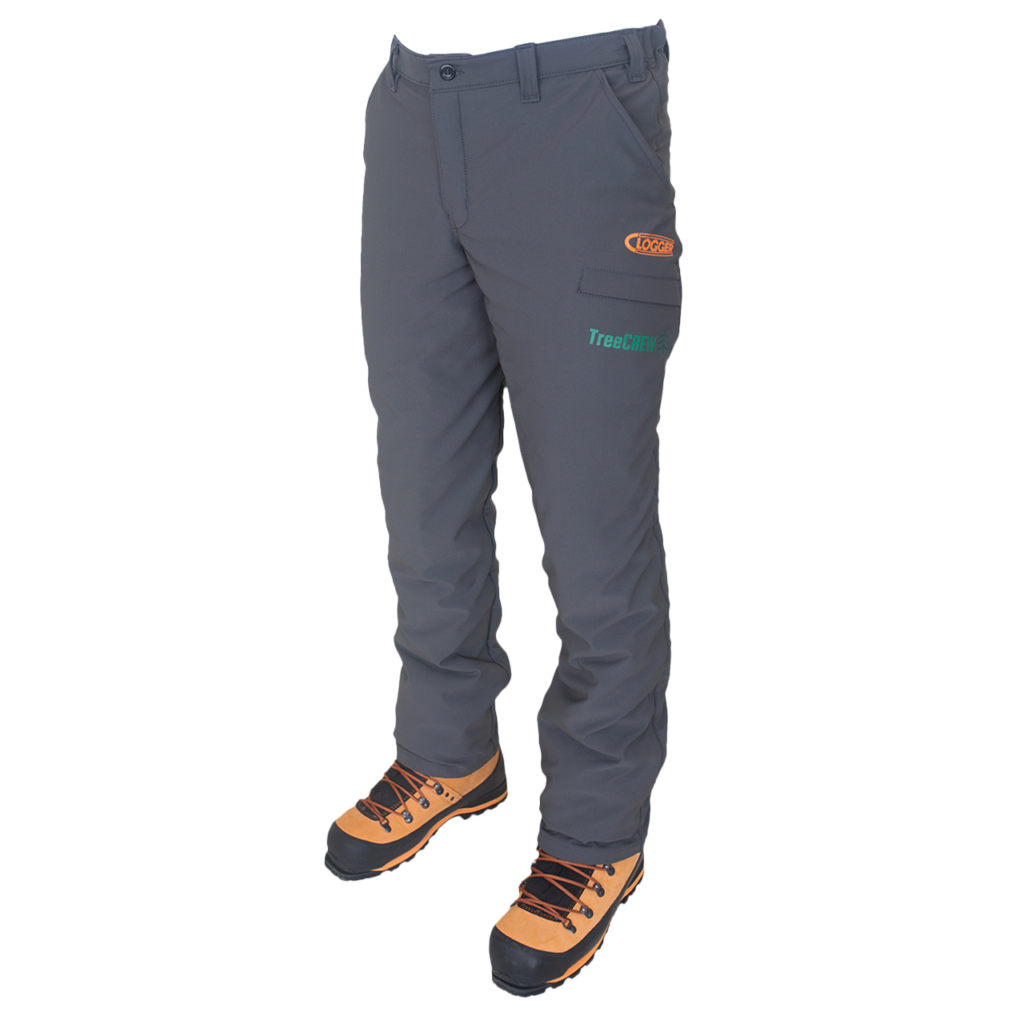 At just 2.3 lbs (medium), TreeCREW is a lightweight solution for chainsaw protection.
3. TreeCREW Chainsaw Protective Chaps
TreeCREW chainsaw chaps offer the lightweight, breathable experience that Zero chaps users love, but simplified to make them as affordable as possible.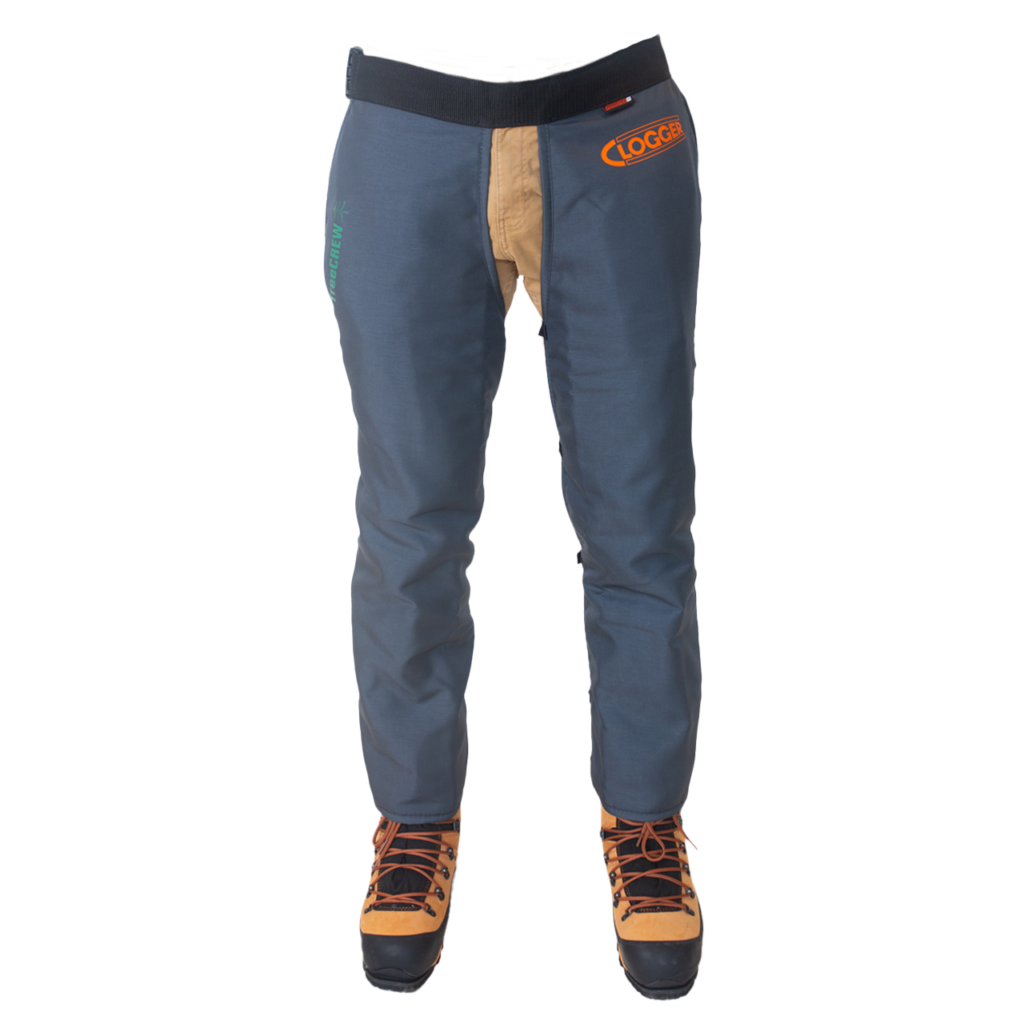 Like TreeCREW pants, the chaps feature Clogger's exclusive Arrestex HP chainsaw fabric, which is light and breathable while providing advanced technical chainsaw protection. Additionally, TreeCREW chaps offer waist-to-ankle coverage with extra coverage on the left side of the chaps to reduce the risk of injury caused by the rotation of the chap during a chainsaw strike. The chaps are constructed with tough, breathable, high-tenacity nylon that repels water.
Other features of our TreeCREW chaps include a soft poly-cotton lining, 2-inch wide belt with a quick-release buckle, adjustable waist size up to 49 inches, and five rugged polypropylene straps per leg for a comfortable and ultra-secure fit. And with a lightweight design of just 2.1 lbs (< 1 kg) for medium size, you'll be able to move freely and comfortably as you work.
We plan to offer a variety of options for our TreeCREW chaps, including apron-style with ultra-tough clips or 360 calf-wrap protection with a zip closure for efficient use.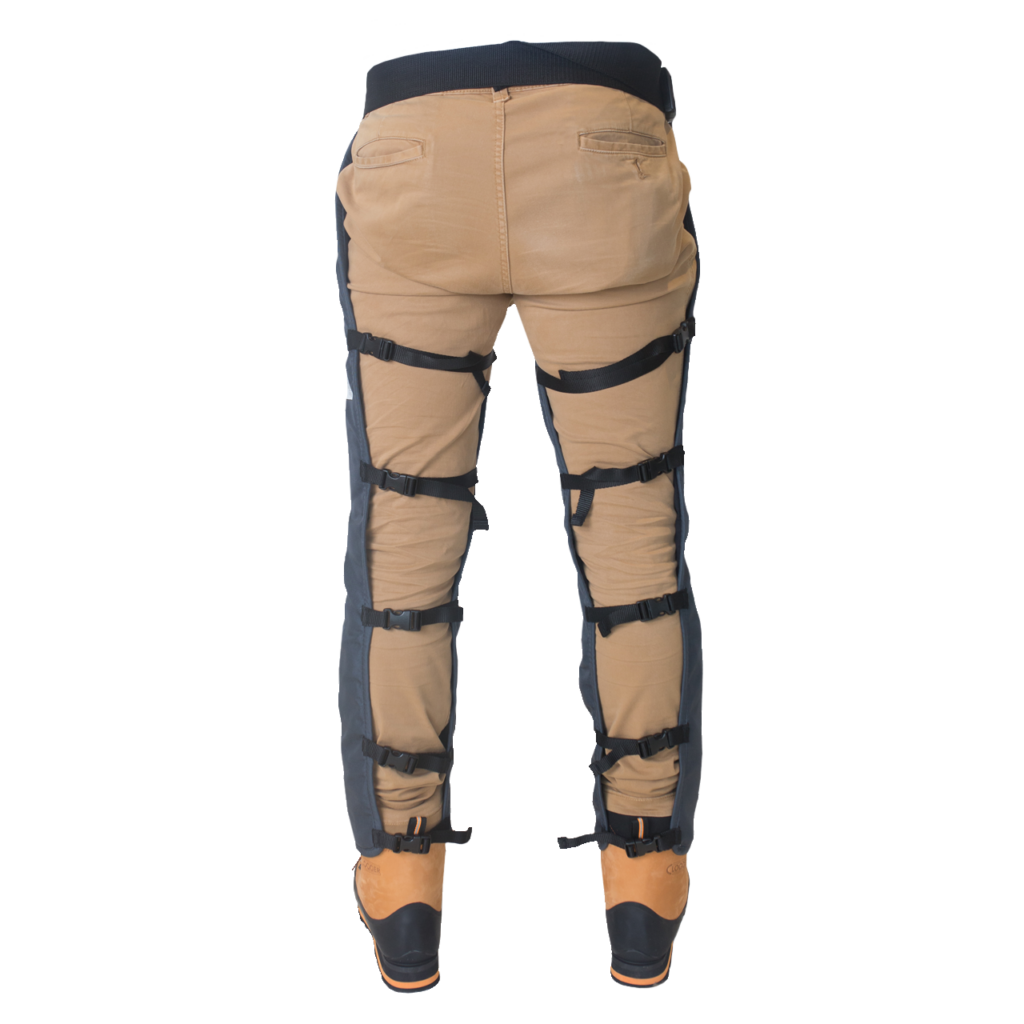 The adjustable waist extends to 49 inches. An additional 18-inch extension belt is available if required. The fit is unisex with three leg lengths – small, medium, and large.
4. Availability and Certifications
Like all Clogger products, TreeCREW pants and chaps use a heat press UL label designed to last the life of the garment. No more premature retiring of chainsaw pants or chaps due to the UL tearing or wearing off.
a. United States
A range of TreeCREW chainsaw protective pants and chaps are now available in the United States including front and front with 360 calf protection pants. Chaps options are coming soon.
TreeCREW women's chainsaw pants
TreeCREW apron style chaps (Coming soon)
TreeCREW calf wrap chaps (Coming soon)
The TreeCREW chainsaw line is certified by Underwriters Laboratories (UL) to ASTM F1897-20 and meets OSHA regulation 1910-266.
b. Canada
Canada TreeCREW range availability.
TreeCREW women's chainsaw pants
TreeCREW apron style chaps (Coming soon)
TreeCREW calf wrap chaps (Coming soon)
All TreeCREW products exceed Canadian standard with UL certifification to ASTM F3325-20 for Canada as well as exceeding the Worksafe BC standard as set out in their publication, OHS Section 8-21 (2).
c. Australia / New Zealand
Due to the larger Clogger range and market differences in New Zealand and Australia, only the front protection chainsaw protective pants are currently being offered in Men's and Women's fit.
Australia
TreeCREW women's chainsaw pants
New Zealand
TreeCREW women's chainsaw pants
TreeCREW is certified by Bureau Veritas NZ Ltd to the Australian and New Zealand standard, AS/NZS 4453.3:1997 (20 m/s chainspeed).
Conclusion
The revolution started by Clogger continues. Hot, heavy basic chainsaw protection will soon be a thing of the past. The TreeCREW line is the next step in this move from hot and heavy to high performance and light all while increasing the safety provided.
TreeCREW – an affordable way to Advance Your Guard with Clogger.