The Gen 2 Zero Chainsaw Pants are now available for purchase.
And we're all pretty excited about this launch at Clogger.
We've been working on the Zero Gen 2 for months. Getting all the feedback we could on the first generation of the Zero chainsaw pants and thinking how we could improve them. We tested multiple fabrics to make sure this model would be more durable and sent the new Zero to some Arborists to trial.
The main objective was to make them tougher and more durable. We've made the changes and to put them to the test under real-life work pressure. The Gen 2 Zeros passed every test that we could think of. And voilà. The Gen 2 Zero is now on the shelf!
But, before getting it, you might wonder: what's new about the Gen 2 Zero Chainsaw Pants?
Here's the quick summary.

1. Gen 2 Zeros are still the lightest and coolest chainsaw pants around
No change here. The Gen 2 Zero Chainsaw Pants keeps the key features that made it famous: lightweight and highly breathable.
Zeros prove that your chainsaw pants do not have to be hot and heavy to be safe. Incorporating the breakthrough Arrestex HP chainsaw fabric, the pants are certified by Bureau Veritas NZ Ltd to AS/NZS4453.3:1997 (protection exceeding 20 m/s based the testing method in this standard) and tested to 3,500 ft/min by UL exceeding ASTM F1897-14 (US) and CAN/BNQ 1923-450-1 / WCB standard for British Columbia (Canada).
The outer fabric still incorporates NILIT® Breeze yarn to provide a cooling effect. Laboratory studies show that body temperature stays almost 1°C lower with a NILIT® Breeze fabric compared with the comparable fabric without NILIT®.
If you're working in a warm and dry/humid environment, it's key for you to wear trousers that will keep you refreshed. Your gear shouldn't be a constraint; it should help you to work faster. And safer!
An Arborist from Arizona in the US recently told us that Zeros were the only chainsaw pants that he could wear when the temperature hit the high 90s F (high 30s C) and above. We love stories like that. Our goal is to make tree professionals' day at work better.
If you haven't read our article on the impact of heat on your productivity, we advise you to have a look at it.
2. Gen 2's outer fabric is 1.5x stronger with a new ripstop weave for additional strength
We've upgraded the outer fabric to an even stronger material (more high-tenacity nylon), and we've added a ripstop weave. This makes the warp tear resistance 1.5 times stronger! You told us you wanted trousers that would last. We heard you.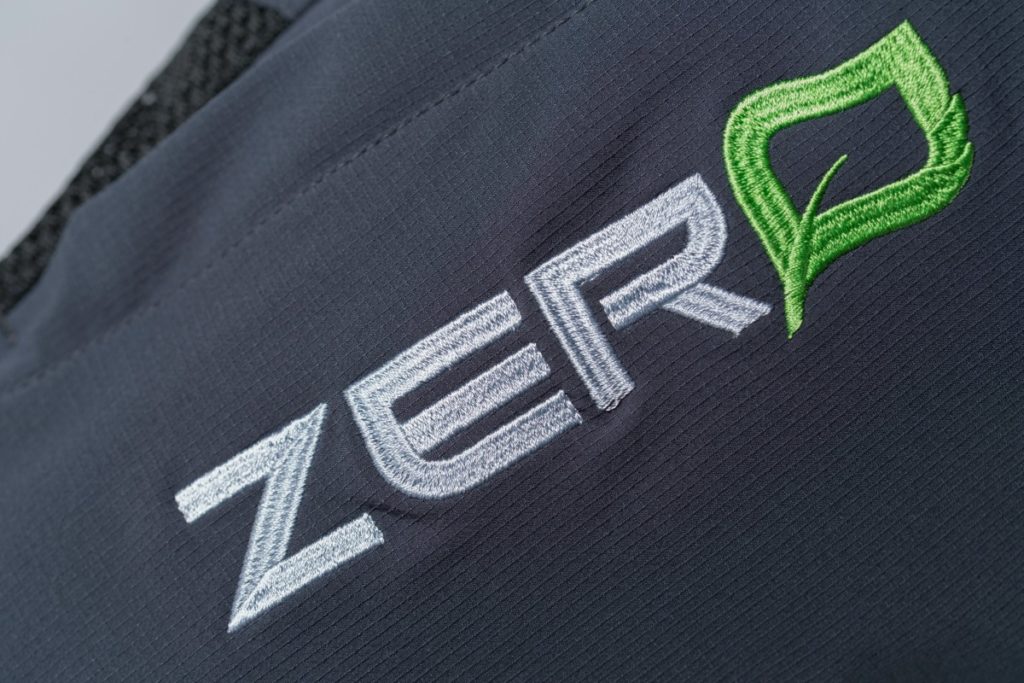 The fabric is stronger but the 4-way stretch flexibility stays the same. The new Zero embraces your movements. You are able to stretch, climb and jump freely.
Want to know how to look after your Zeros to extend their life? Read our post on how to care for chainsaw protection gear.
3. There's a more resilient seat seam
There's nothing worse than the seam on the seat of your chainsaw trousers coming apart. We've added a special elasticised thread so that the thread will stretch rather than break when under pressure. The seat seam is lock stitched meaning that the threads lock together. This type of stitch means that a break in the thread will only result in the loss of a stitch or two rather than losing the whole seam.
4. Pocket bags can now be pulled out
We heard some complaints from arborists' partners, who are tired of finding sawdust in their washing machines. Even Shonaugh, one of our Clogger R&D team, whose partner is an arborist, has had enough! So, we decided to redesign the pocket bags. Now each pocket can be turned inside out separately rather than being sewn in, so no more excuses.
N.B: We disclaim all responsibilities if the saw dust is removed from the pockets inside the house.
5. New cut resistant pad added
We won't play the game of "Find the Differences", but can you find one on the leg of these trousers?
Yes, you're right. There is a difference, a significant difference.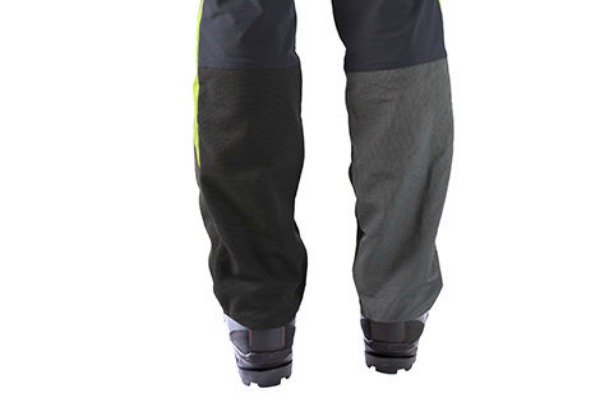 We've added super high-strength fabric made with cut-resistant "Dyneema" yarn on the back of the rear leg. It's specially designed to stop all the little tears caused by the chainsaw teeth, when hanging off the harness.
If you usually put your chainsaw on the left side, you can always request a custom-made trouser. Just send us an email and we'll organise it for you!
6. New and improved zippers
The Gen 2 Zero features improved zippers across the board. The new Zero zippers use an improved reverse coil zipper with a tighter seal. This increases the protection for the zipper's teeth from saw dust which can damage the zip. The new zippers also have been made using a larger 'coil' which gives the teeth greater holding power and more durability.
7. Zero has gone green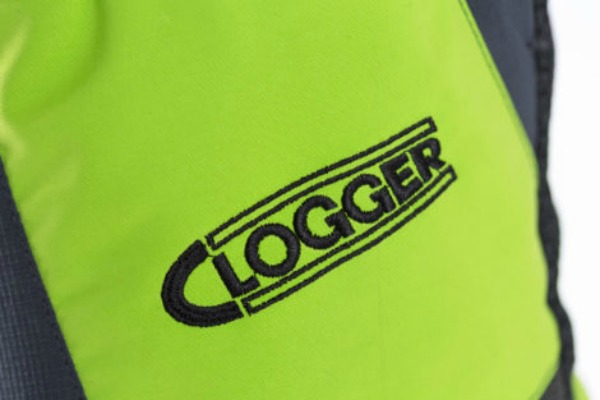 This is a pretty obvious one. The new Zero has these vibrant green-coloured flashes, matching with green colour in the leaf of the Zero logo.

You want to look nice on the trees and on the ground. With these new trousers, we bet you will! You will easily be able to spot the Gen 2.
8. Zero comes in women's sizing
Oh! You mightn't know but the Zero range is also available for women. We don't consider it an innovation, but it is still something pretty new in the industry. We're really happy to make the right gear available for everyone!
Check out the Gen 2 Zero Chainsaw Pants!
We hope you've found this post valuable and worthwhile. If you have any further questions about the Gen 2 Zero Chiansaw Pants, please contact: +64 3 218 8899, sales@clogger.co.nz or leave a comment below.