A while back, we did some Pink Zeros samples. They caused quite a bit of buzz.
"@Matt Lee if these are released and u don't buy me them, I quit"
"Are you guys still able to make the Zero's women in pink? Finally got some pink carabiners and what the pants to match"
"Yes please I stole my wife's zeros for my worker so I need to replace her zeros. These would be great"
We decided that it was time to do a production run but thought that we should do something special as well.
So, the good news.

1. Pink Zeros are available starting today
We are doing a limited run of pink Zeros just like the picture below.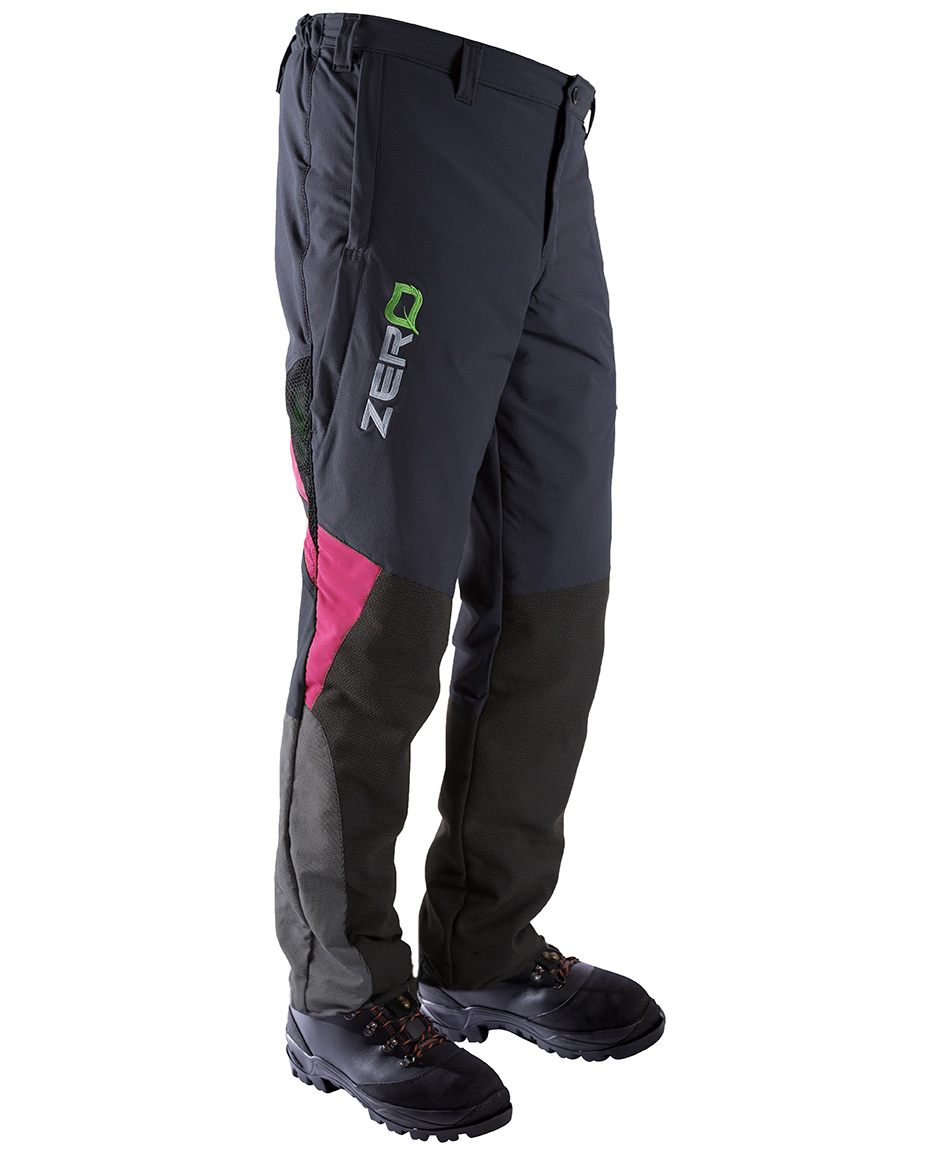 This will only be a limited run so get yours early. Once we are out , that is it!
Pink Zeros are fully fledged Gen 2 Zeros with all the great new features outlined in this blog.
2. Pink is for everyone
Pink Zeros are available in men's and women's sizes.
3. Check your favourite retailer
Select retailers are participating. Here's the list of retailers who will have Pink Zeros in stock.
New Zealand
Treetools
Australia
Melbourne's Mower Centre
Launceston Mower and Chainsaw Centre
Vermeer Richlands
Arbor Industrial
Ace Tree
Canada
Universal Field Supplies
Now for the special part.
We will donate $20 from every sale to create a fund to pay for any Clogger chainsaw protection for women students currently studying to enter the Tree Care Industry.
Why are we doing this?
Entering in a male dominated industry can often be challenging. We want to make it easier by giving women arborist students Zeros so they are safe, comfortable and ready to take on the challenge.
If you are a current student or if you graduated with the last 12 months, apply here. If you know some eligible, let them know and tell them to get their application in.
Applications close Midnight Friday November 30 (New Zealand Daylight Time). We'll announce the selected applicants on Friday December 14. We have to limit the program to New Zealand, Australian, United States and Canadian residents for now based on our current certifications. Check out the FAQs for more detail.
If you want to support women in the Tree Care Industry, buy Pink Zeros and take care of the next generation of women arborists.
FAQs
Why did Clogger decide to create the Pink Zero Program?
One of Clogger's core missions is to make sure that chainsaw users are protected against the dangers linked to their job. These risks include heat illness, arc flash or a chainsaw accident. It is our role to educate customers on the different options to ensure their safety, but also make sure that they are comfortable and are able to perform their work well. In a male dominated industry, there is many challenges for women students and new women arborists and tree care professionals. We believe that finding the right Chainsaw PPE gear shouldn't be one of them. For this reason, we created this program to both encourage women entering the industry and make sure that they are safe when they start working.
How does it work?
The process is simple.
Clogger will track all sales and set $20 aside for every pair on Pink Zero pants sold
Applicants can apply using this form (be prepared to upload your student id or diploma)
The team at Clogger will review applications and select the top ones
We will announce and notify the the winners
We will notify all winners on Friday December and collect their orders for immediate shipping
Who can apply?
Anyone who is training for the tree care industry or graduated within the last 12 months. You need to be resident in New Zealand, Australia, the United States or Canada to be eligible. We only currently have certifications for these countries.
Key deadlines
Pink Zero limited editions launched and applications for the Pink Zero Fund open
Friday 7 December 2018 (Midnight New Zealand time)
Applications for Clogger Chainsaw PPE paid for by the Pink Zero fund close
Friday 14 December 2018 (Midday New Zealand time)
Successful applicants are announced and notified